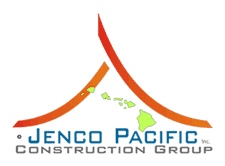 LIC. BIC-28923
A builder with you all the way
Whether it is structural design, new construction or renovation we provide the solutions you need for a successful project.
3D Conceptual Renderings
AutoCAD Drafting Service
New Construction
Remodeling
Improvements
Repairs
Visual Acquisition & Surveillance Systems
Home Security & Automation Systems

Design to Completion
For more than a decade, Jenco Pacific Inc. dba Tropicland has been turning dreams into reality for Hawaii home builders and owners. Our design-build and drafting service can save you time and money by minimizing costly re-do and change orders.
In the design process we simultaneously generate a computerized 3D rendering of your project and preliminary CTB (cost-to-build). This helps you visualize your concept and make a "go" or "no go" decision. Our secondary cost analysis will help you to determine upgrade or down grade decisions in order to meet your construction budget.
Once the design process is complete we produce working drawings and run it through all the Hawaii County departments for you to obtain permits and approval. Once we begin the construction phase of your project we will not leave until your job is done.
Driven to Excellence, Devoted to Your Satisfaction
Our commitment to excellence begins with meticulous planning, communication and efficient execution of your project to produce a high-quality job with minimum delay.
"Quality" homes are more than expensive cabinets and appliances or lavish square footage. A quality home starts with quality construction and craftsmanship. Quality has as much to do with how well your home is put together as it does with the products you choose to furnish it. We will build your home to exacting standards of enduring quality, whether it is a cozy cottage in Volcano or a luxury villa on the Kona coast.
Jenco Pacific Construction Group's ultimate goal is to build a blemish-free building for you, and to know that you are happy about your new home and enjoyed a worry-free building process.
Foundation of Trust
For many, building a new home or renovating your kitchen is a major once-in-a-lifetime expense so we don't take your concerns lightly, no matter how small. Working with Jenco Pacific means constant communication, attention to detail and doing what we said – when we said we'd do it.
Excluding circumstances that are out of our control, we never leave your project until it is completed. Other contractors will juggle jobs around, using money and crew from one to feed another and ultimately delaying projects for the benefit of their bottom line. When you hire Jenco Pacific, we are devoted to your construction project 100% start to finish. Trust needs to be earned not just by doing things right, but by doing the right things.
Bottom line, Jenco Pacific is a Hawaii builder you can trust to complete your project to your specifications. We are proud of our 98% return customer rate, earned by our outstanding, realistic, up-front and honest service.